Internal Medicine Interview Overview
The internal medicine interview lasts 45 minutes and consists of three stations each lasting 10 minutes with transfer time between stations. Each station is designed to assess the selection criteria on the Person Specification. You will rotate round all three stations during the interview process with 3-5 minutes between stations.

All stations will be staffed by two interviewers (consultants from the interviewing region), each of whom will award you a mark on each of the aspects on which you are being assessed.

Internal medicine interviews are held in each respective deanery from January to March (Round 1) and in May (Round 2). Each region has slightly different interview dates throughout the interview period so please check
here for the latest information.
The stations for 2021 Internal Medical Training Interviews are:
The exact timings can vary slightly by interview centre but typically this will involve the following:


Arrival
- most centres set the interview slot times that you book 30 minutes before you interview is planned to begin. This time is used to register your arrival and check your eligibility documents.

Interview
- there are three interview stations through which you will cycle and the time allocated to each is 10 minutes, with five minutes' transfer time in between. Thus the total interview time will be approximately 45 minutes.

After interview
- this can vary by interview centre but usually you will be free to go as soon as your interview ends. In some cases the clinical lead may need to speak to a candidate to clarify something from the interview but this is not usual.

Total time
- the advice is that you should expect to spend about two hours at the interview centre. In most cases this will be less but the schedule can often over-run. This is just a rough guide and it cannot be guaranteed that all candidates will be able to leave within two hours of their arrival time so please bear this in mind when planning your transport etc.


Interviewers

Each of the three stations will be staffed by two clinical interviewers who will assess different areas of your skills, knowledge and experience. This means that you will be assessed and scored by six different interviewers.
In station 1 there may be a third clinician to assist with the checking/review of your documentation and the application; however, you will only be marked by the two asking questions.


Lay representatives

Lay representatives will be used to monitor IMT interviews. They will not be involved in candidate assessment; their role is to assist in the quality assurance of the interview process.
They will observe a selection of interviews so you may or may not see one during your interview.
The interviews core medicine and ACCS (AM) take place at a each deanery. Each region has slightly different interview dates throughout the interview period so please check
here for the latest information.
During interview, you will be assessed on six independent aspects of your candidature.
For each aspect, you will receive two marks - one from each of the two interviewers assessing you on each aspect; thus giving 12 marks in total .

Each of these marks will be between 1 and 5; so with 12 marks awarded, the maximum score available here is 60 .

This score is referred to as your 'raw' interview score (RIS) - ie the score awarded to your interview as a whole, before any weighting is applied.

Details on how weighting is applied to scores can be found further down this page; for information on how each individual 1-5 score is established, please see the scoring framework directly below.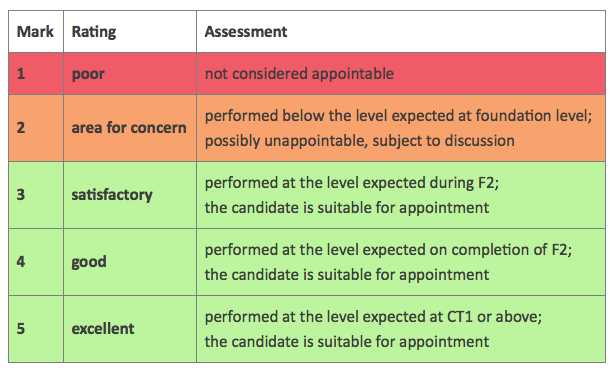 To be classed as 'appointable', you must meet all three criteria below:
none of your 12 interview scores can be 1/5
no more than two of your 12 interview scores can be 2/5
your Raw Interview Score (RIS /60) must be 36 or above .
If you meet all three requirements, your application will be assessed as appointable, and can progress to be considered for post offers.
After interview, a weighting is applied to the scores in each area, as well as the 'short-list' score awarded to your application form. These scores are then combined to give your overall assessment score.