Internal Medicine Interview Overview
In 2021 the IMT interview will be delivered online and will consist of four questions which will last between 5 - 10 minutes. You will be marked on these four questions and your overall communication skills, and scored on six areas in total. You will be scored by two interviewers on each question.
Including time for questioning and reading, the interview will be approximately 30 minutes.
Interviews will be staffed by two interviewers (consultants from the interviewing region), each of whom will award you a mark on each of the aspects on which you are being assessed.
Internal medicine interviews are held in each respective deanery from January to March (Round 1) and in May (Round 2). Each region has slightly different interview dates throughout the interview period so please check
here for the latest information.
The stations for 2021 Internal Medical Training Interviews are:
Clinical Question

In the five minutes before your interview starts, you will be given a clinical scenario to review. Upon arrival in the interview room, you will be asked questions relating to this scenario.
Some points you should consider when reviewing the scenario:
what next steps you would take
any potential treatments possible
any further information you would gather
how you would go about communicating with any people (eg patients, family members, colleagues) involved in the scenario.
The clinical scenario will be relatively brief (a few sentences), so once you have seen this, the remainder of the preparation time will allow you to undertake some short mental preparation; it is not permitted to take notes regarding the scenario.
Questioning on the clinical scenario will last for up to ten minutes.


Areas for assessment

There are two areas that will be scored in the clinical scenario question:
One mark will be awarded to you based on the investigations you would do and your diagnosis given the information available.
The second mark will be based on your subsequent management of the patient and your communication skills in terms of interacting with the patient, relatives or colleagues in the scenario.


Ethical question

The ethical question deals with consideration of the moral, ethical, legal, etc. issues of a particular situation. This question will not be available to you to consider in advance and the hypothetical scenario will be given to you on completion of the clinical scenario.
You will be assessed on your responses to the ethical scenario, as well as knowledge of the different considerations required.

This question will last up to five minutes.


Suitability and commitment

Once the ethical question has been completed, there will be a short break (approximately two minutes) to allow the interviewers to finish marking the previous questions and for you to gather yourself for the second half of the interview, which focuses on your career to date and future intentions.
This question will focus on your suitability for and commitment to training in the specialty and give you opportunity to expand on the information provided in your application form. You may also be asked about your interests outside medicine.

Questioning on this area will last approximately 5 minutes.


Application and training

Following immediately on from the suitability and commitment question, this question will focus on your application form and training to date. Interviewers will ask you questions based on your career, achievements to date and your engagement with training and learning. 

This question will last up to five minutes. At the end of this question your interview will be completed and you will be asked to leave the interviewing room.
The interviews will be held online via Microsoft Teams.
During interview, you will be assessed on six independent aspects of your candidature.
For each aspect, you will receive two marks - one from each of the two interviewers assessing you on each aspect; thus giving 12 marks in total .

Each of these marks will be between 1 and 5; so with 12 marks awarded, the maximum score available here is 60 .

This score is referred to as your 'raw' interview score (RIS) - ie the score awarded to your interview as a whole, before any weighting is applied.

Details on how weighting is applied to scores can be found further down this page; for information on how each individual 1-5 score is established, please see the scoring framework directly below.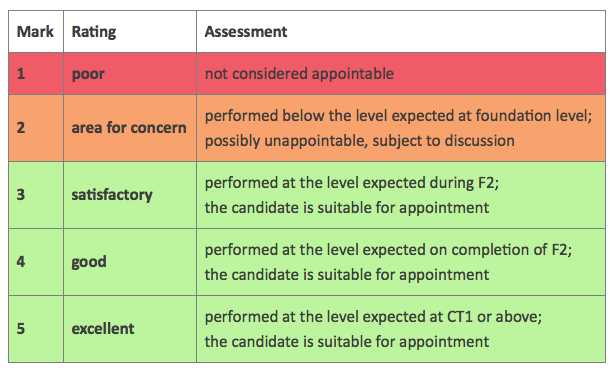 To be classed as 'appointable', you must meet all three criteria below:
none of your 12 interview scores can be 1/5
no more than two of your 12 interview scores can be 2/5
your Raw Interview Score (RIS /60) must be 36 or above .
If you meet all three requirements, your application will be assessed as appointable, and can progress to be considered for post offers.
After interview, a weighting is applied to the scores in each area, as well as the 'short-list' score awarded to your application form. These scores are then combined to give your overall assessment score.