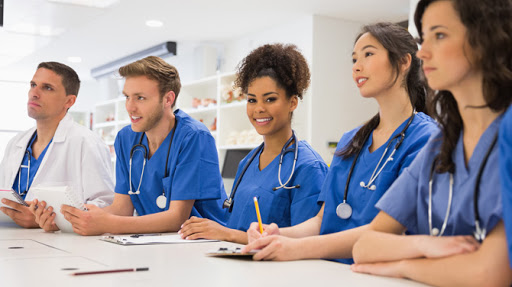 What Is IMT Training?
IMT training is a three-year programme that prepares doctors to become a medical registrar and equips them with the skills needed to manage patients with a wide range of general medical symptoms and conditions.
Doctors will gain invaluable experience in intensive care medicine, geriatric medicine, and outpatient treatment while receiving extensive training for the duration of the programme.
Since replacing Core Medical Training (CMT) in August 2019, IMT Training has formed the initial stage of speciality training for doctors.
As a trainee, you must complete IMT and acquire the full Membership of the Royal College of Physicians of the United Kingdom diploma to enter speciality training at the ST4 level from 2022. Although some specialities from group 2 will recruit trainees who completed two years of IMT and completed MRCP(UK) at the ST3 level.
In effect, IMT is your gateway to higher specialisations in any particular medical field.
Medical Specialities
The medical specialities that require IMT are divided into two groups. Group 1 specialities support acute hospital care and require three years of IMT completion before you can apply.
Meanwhile, Group 2 specialities provide non-acute out-patient based services and require you to complete two years of IMT before you can apply.
They are as follows:
Group 1 Specialities
Acute Internal Medicine
Cardiology
Renal Medicine
Clinical Pharmacology and Therapeutics
Endocrinology and Diabetes Mellitus
Gastroenterology
Genitourinary Medicine
Geriatric Medicine
Rheumatology
Infectious Diseases (except when dual with Medical Microbiology or Virology)
Neurology
Palliative Medicine
Respiratory Medicine
Group 2 Specialities
Allergy
Audiovestibular Medicine
Aviation and Space Medicine
Clinical Genetics
Clinical Neurophysiology
Dermatology
Haematology
Immunology
Infectious Diseases (when dual with Medical Microbiology or Virology)
Medical Oncology
Medical Ophthalmology
Nuclear Medicine
Paediatric Cardiology
Pharmaceutical Medicine
Rehabilitation Medicine
Sport and Exercise Medicine
Speciality Training In The UK
After completing medical school, there are two stages of post-graduate training that you will undertake: foundation training, followed by speciality training.
The foundation training takes an additional two years to complete, while speciality training ranges from three years up to eight years. This training is organised on several levels, from national to local.
Note that many International Medicine Graduates (IMGs) hold the misconception that speciality training is linked to UK universities. However, universities don't have any role in the post-graduate speciality training pathway, and your application for training won't involve them.
Associated Fees And Salary
Since post-graduate speciality training like the IMT medical programme is not a university degree, you'll get to train while you work and there are no applicable tuition fees to pay. As a working doctor, you will receive a salary throughout all stages of training.
Although there are no tuition fees, professional fees such as GMC registration, trade union membership, medical indemnity, and Royal College membership will still apply.
There are also training-related costs, such as exams, courses, and conferences. However, training jobs do provide a study budget, though this usually isn't enough to cover all expenses. As a result, trainees may have to shoulder some of the cost.
Despite having to pay part of the training costs, your salary should be more than enough to cover all your expenses while living a comfortable life here in the UK.
Given the attractive compensation of the profession, it is essential to take your preparation for the IMT interview seriously. Here at Internal Medicine Interview, we offer our extensive 'question bank' of interview questions to help you succeed in the IMT selection process.
Speciality Training Programmes
The goal of speciality training is to eventually become a consultant in a particular speciality, such as neurosurgery, cardiology, and radiology, among others. You can achieve this by completing a General Medicine Council (GMC)-approved training programme.
There are two types of training programmes:
Uncoupled

Included in the uncoupled specialities are all branches of internal medicine, the majority of surgical specialities, anaesthetics, emergency medicine, and psychiatry.

In uncoupled training programmes, the speciality programme is divided into two stages: core training and higher speciality training.

Core training takes two or three years to complete depending on the speciality. The first year of core training is known as CT1, followed by CT2, and then CT3.

Throughout this programme, you'll also be referred to by these designations so others will have an idea of your experience based on your title alone. For instance, a CT2 doctor will be in the second year of their core training.

After completing the core training, you will then need to apply for higher speciality training. Each year in higher speciality training is prefixed by ST (for speciality training) and usually start at ST3 (if core training was two years) or ST4 (if core training was three years). Every year, the numeric designation increases until the programme is complete.

Note that for uncoupled training programmes, you'll have to undergo two applications – one for core training and another for higher speciality training. With the information that we at Internal Medicine Interview provide, you'll be able to prepare accordingly and maximise your chances at every application!

Run Through

For the run-through training, you'll send in your application during the first year of the programme, ST1 or Speciality Training Year 1. Once selected, there will be no further applications required.

Once you start a run-through training programme, yearly progression is automatic until you complete the programme and obtain your Certificate of Completion of Training (CCT).

Some of the specialities covered by this training program include paediatrics, obstetrics and gynaecology, ophthalmology, radiology, cardiothoracic surgery, and neurosurgery.
For you to have a better understanding of the Internal Medicine Application Process, including how IMT scoring works, get in touch with us now! Here at the Internal Medicine Interview, we're always happy to lend a hand.
Your Best Chance to Get Into Internal Medical Training
The internal medicine program is one of the most popular medical specialities, with over 2,700 applicants applying for just over 1,500 jobs each year. The competitive selection process can be daunting, but it does not have to be overly difficult.
Sign up to our website now, and we will help you kick-start your IMT preparations. For any questions, please contact us using at https://internalmedicineinterview.com/Contact-Us.php.
Medical Training Pathway To Becoming A Doctor
There are different types of training that aspiring doctors must undertake, and each can be overwhelming. It takes up to six years to become a qualified doctor, with the exact duration dependant on the medical speciality that you choose.
To get a clearer picture of the medical training pathway, we've mapped out a handy step-by-step guide of what to expect.
Undergraduate medical training – four to six years of study
Post-graduate medical training (the foundation programme) – consists of foundation year one (FY1) and foundation year 2 (FY2)
Speciality and general practice training (post-graduate medical training) – there are over 60 specialities to choose from:

Run-through training programmes – lasts three years for general practice and five to seven years for other specialities
Core and higher specialty training programmes – lasts two to three years, depending on the speciality you're taking up.
Acute Care Common Stem (ACCS) – a three-year training programme that follows F2 and the only core training programme for those looking to enter higher speciality training.
Internal Medicine Training In The UK
Internal medicine training is the core-level IMT medical practicum for all un-coupled medical specialities in the UK. These specialities include nephrology, cardiology, and gastroenterology, among others.
As a trainee in this program, you will rotate through various specialities and achieve the competencies of becoming a medical registrar. Prior to qualifying for a higher specialisation in any medical field of speciality, you'll first need to complete IMT.
How Speciality Training Works In the UK
There are two stages to post-graduate training after medical school: foundation training, followed by speciality training. Foundation training lasts for two years, while speciality training lasts anywhere between three years for general practitioners and eight years for many other hospital-based specialities.
Thereafter, any additional training after gaining GP or consultant status is optional. After successfully satisfying all requirements for the training programme, you'll be awarded a CCT. Then, you'll have the option to join either the GMC GP register to be recognised as a GP, or the GMC Specialist Register to be recognised as a consultant.
About General Internal Medicine
Doctors who are in general internal medicine practise specialise in managing uncertainty, diagnostic reasoning, and dealing with complex medical problems that involve multiple symptoms and conditions. They will also recognise at once when speciality opinion or care is required.
If you're a doctor who specialises in GIM, you're a part of the acute medical care workforce and practice acute medicine, geriatrics, as well as other specialities and sub-specialities. Also, you can combine GIM with academic research or a non-clinical role.
Valuing General Internal Medicine
The Royal College of Physicians, through a report, highlighted the importance of GIM in the delivery of holistic, person-centric care. There's also a recommendation to have GIM alongside a medical speciality as part of the standard training curriculum for physicians undergoing training in England.
Advances in the field of medical sciences and technology have driven sub-specialisation and revolutionised the care and clinical outcomes of patients with acute illnesses in certain areas of specialisation, such as stroke and cardiac ischaemia.
We understand how important it is for you to get accepted into your first-choice internal medical training job. Get in touch with us to kick-start your internal medicine internship preparation now!
FREQUENTLY ASKED QUESTIONS
What is an IMT doctor?
A doctor who has completed their internal medicine training is a full-fledged medical registrar, equipped with the skills needed to manage patients presenting with a wide range of general medical symptoms and conditions.
These medical professionals have gained valuable experience in intensive care and geriatric medicine, as well as outpatient care, and receive simulation training throughout the programme.


What is Core Medical Training in the UK?

Core Medical Training is a two-year programme that forms the first stage of speciality training for physicians training in various medical sub-specialities. Doctors must complete their training and acquire the full MRCP(UK) Diploma to get into speciality training at ST3.


How long is GP training in the UK?
Doctors aspiring to become an independent General Practitioner in the UK must complete at least three years of GP Specialty Training. This training includes 18 months of approved training practice and another 18 months in approved hospital posts.


What is involved in internal medicine training?
Internal medicine training UK involves "categorical training", or three years of residency after medical school. You'll get to hone your skills in several specialities such as anaesthesia, dermatology, and radiology, among others.
As a resident, you'll undergo a year of internal medicine training, often referred to as 'preliminary' training, before moving on to more focused learning in specific fields of interest.


What is the timeline for internal medicine training?

IMT is a three-year programme that forms the first stage of speciality training for doctors who are honing their skills in several specialities. Trainees must complete the entire IMT medicine programme and acquire the full MRCP diploma to get qualified for speciality training.


How does IMT differ from CMT?

Internal medicine teaching provides a more structured programme with mandatory training in geriatric, critical care, as well as outpatient care. It also features extended placements in IMY3 to offer more continuity in training and support your transition into the medical registrar role.


What is the difference between general practice and internal medicine?

General Practice physicians serve as family practice physician and can treat patients of any gender or age. In contrast, physicians with IMT medical discipline certification usually treat adults and specialise in the prevention, diagnosis, and management of diseases and other chronic conditions.


Why is it called internal medicine?

Internal medicine traces its roots from the German term "innere medizin", which was widely popular in Germany in the late 19th century. It is a term used to describe physicians who combine their expertise of the laboratory with the care of their patients.


How to apply for IMT?

You can first get information on how to apply for the internal medicine UK training and ACCS on the IMT website.
You'll find a comprehensive guide on the recruitment process section of the IMT online site. Just follow the instructions and fill out the pertinent information for the recruitment round, which includes dates and posts, eligibility criteria, planning your application, interviews, and offers.